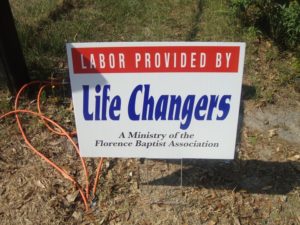 Due to COVID-19 our normal LC was cancelled. We will be doing a mini version July 20-24. Please read the registration letter for details.
Registration Information for Mini LifeChangers:
LifeChangers is a local mission project sponsored by the churches of the Florence Baptist Association. It is a coed experience for youth who have completed grade seven through adults. The purpose of LifeChangers is rehabilitate substandard houses in the low
income neighborhoods in Florence.
LifeChangers began in July, 2003 with fifty-one students and adults working on three homes in the area. It continues to grow each year. Participants are divided into crews of 10 – 12 youth and adults. Work may include painting, roofing, doing minor outside repairs, handicap ramps, etc. The week begins on Sunday night at 7 pm through the following Friday evening after the Celebration Service. Cost for the week is $100.
Monday,

Tuesday,

and Thursday Schedule
6:30 am – Breakfast
7:00 am – Leave for work site (Monday – "The Great Sendoff")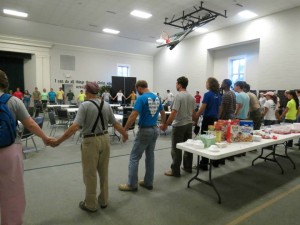 11:30 – 12:00 pm – Lunch at work site 2:30 pm – Leave work site
6:00 pm – Supper at designated church (schedule will be posted)
7:30 pm – Worship at Calvary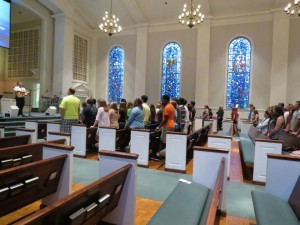 9:00 pm – Fun Stuff Activity (Mon.-bowling, Tues.-swimming) 10:30 pm – Return to Calvary
11:00 pm – Lights out – that means in
YOUR room and GO TO SLEEP
Wednesday Night
5:00 pm – Supper with your church group 7:00 pm – Fun Stuff
Friday Schedule
2:00 – Leave work site and follow same shower procedure
Return to Calvary to pack up. Pack vehicles if available. Clean assigned space.
6:00 pm – Supper
7:30 – Celebration Service in sanctuary at Calvary –
Invite your parents and friends!
Participant Information 2020:
Will be posted later!